Thanks to Houselogic.com for another a great list of things that you can do to protect yourself, your home, and your property.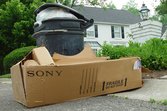 Successful burglars have lots in common — home owners who unwittingly give invitations to robbery. Here's how thieves thank you for your generosity. Read

Are you considering buyer or selling a home in Houston? If yes, then give me a call today!
Visit houselogic.com for more articles like this.
Copyright 2012 NATIONAL ASSOCIATION OF REALTORS®